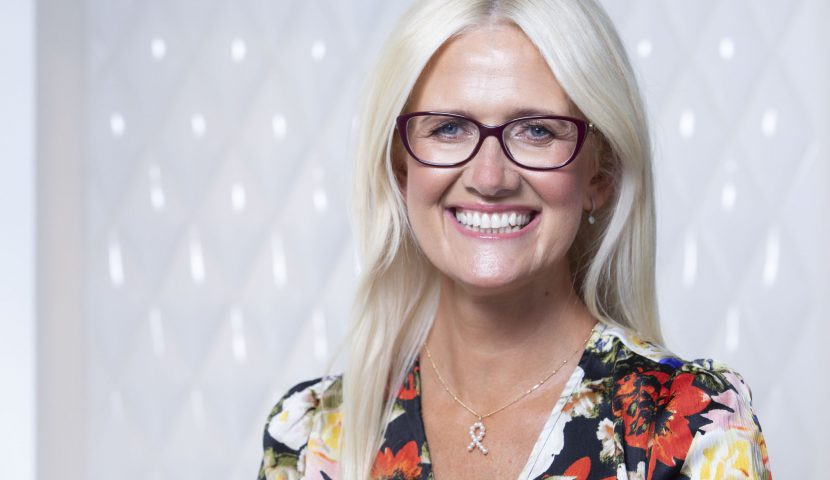 Irish women convince global brand Vero Moda to back breast cancer campaign
Oct 1, 2019
October brings out a lot of pinkwashing, where brands piggyback on breast cancer awareness month to fuel their own pockets. It makes me 20% cynical and 100% furious. Then there are brands, like Vero Moda, who are not just putting their money where their mouth is, but they've combined the global might of their company to create something really special and potentially life-saving.
---
"I want to stand on top of a mountain and say this happens. It shouldn't, but it does: people die from breast cancer. That's the reality of it," says breast cancer survivor Paula McClean. Eight years on from her own diagnosis and thankfully, cancer-free, Paula has become an advocate for breast cancer awareness and is lending her voice to Vero Moda's #LetsTalkPink campaign.
Together, we travelled to the Vero Moda headquarters in Denmark to meet the people responsible for creating two necklaces, which will raise vital funds for Breast Cancer Ireland.
We're accompanied by the Irish retail brand manager, Louise Hart, whose own family has been affected by cancer. Subsequently, she's tested positive herself for the BRCA1 gene, meaning she has a higher risk of developing breast cancer or ovarian cancer. She wanted to do what she could to help fund breast cancer research. Together with her team in Ireland, they decided to create a necklace and managed to convince the accessories team in Denmark to not just fund their plan, but also work with them on this exclusive initiative.
"We couldn't choose between two designs so we kept both!" says Vero Moda's Accessories Category Manager, Katrine Seistrup. We're in the accessories showroom overlooking the Bay of Aarhaus and reviewing the finished products. Having been approached by Louise, she spearheaded the design process.
"Once we decided to do this, it took us about a month to make it happen," The team incorporated pearls into the design for their classic nature and universal appeal. Forecast research also suggests pearls will be on trend for some time to come. "We wanted people to wear this beyond October," says Katrine. "It will still look nice in the spring of 2020."
"Our designer in England came up with the initial sketches and our supplier in China turned around the samples really quickly once we told him what it was for. Everyone is behind this. I think everyone has a family member or a friend who has suffered from cancer. For me, it's my little sister. So it's close to my heart." Katrine also reveals that Denmark and Sweden loved the designs so much they will also be stocking them in their stores. "We gambled on this, but it was a measured risk. When we placed the order we knew it was good. It's really good to know other countries will be featuring it as well."
Ribbon Breast Cancer €7.99, available from Vero Moda stores nationwide
While often considered a superficial pursuit, fashion has empowered Paula throughout her life, and why she's happy to back this initiative. "I shopped my way through chemotherapy," she laughs. "I bought little things that I knew I probably wouldn't wear until I was through it, but it helped me. I think this campaign is an incredibly powerful statement because everybody will get to see and look at it, all age groups and I think that is amazing."
Vero Moda have planned a three-level approach. In addition to the sale of the necklaces, every customer will be offered the option of donating €1 at the cash desk, and will be rewarded with a small card to thank them for their donation. Meanwhile in the changing rooms women will be encouraged to #checkwhileyouchange with the help of illustrations highlighting how to check your breasts for abnormal signs.
Capturing the attention of young women through the medium of fashion could prove paramount.
"I am passionate about a future for young girls. I do not want people to die from this disease. In this day and age it should stop happening. People should be aware from a much younger age. That's not to instil a fear in younger women, but to instil a love for your body and awareness of what's going on in it and if something changes to do something about it. There is no better way to get that message out there than through fashion. It appeals to every single person."
"Being diagnosed with breast cancer floored me. I didn't see it coming. I would wonder 'why me' but why not me? I am a statistic." According to Breast Cancer Ireland, one in nine Irish women will get breast cancer in their lifetime, with 15% of these occurring in women aged between 20–40.
Having discovered her lump early, Paula's cancer proved treatable, but the impact it's had on her life is immeasurable.
"Everything happens for a reason. As you were talking, I was staring out the window thinking I am sitting here in the head office of Vero Moda in Denmark, having been through hell and back and isn't this pretty incredible? There's definitely life after breast cancer."
The Ribbon Necklace for Breast Cancer Ireland is available to purchase from Vero Moda stores nationwide until December 24, priced €7.99.
#Letstalkpink
#checkwhileyouchange
View Article